About Sandman Hotel Group
Whether you are travelling for business or pleasure, it is often the little things that make the biggest difference to your feeling of overall comfort and satisfaction.
By choosing Sandman, we will provide you with the extra measure of quality, comfort, and personal convenience you are looking for. We have over 50 Hotels, Resorts, Inns, and Suites from British Columbia to Newfoundland & Labrador, the USA, the UK, and many more properties under development. A Canadian success story, we are continually refining our product and expanding our locations from sea to sea – and definitely on the move!
In addition to great accommodations, you can enjoy a variety of dining options during your travels. Choose from a casual yet upscale dining experience at Chop Steakhouse & Bar or enjoy a meal in a relaxed environment at Moxies. Alternatively, you can choose the convenience of Denny's Restaurants, Shark Club Sports Bar & Grill, Rockford Grill, or get together with friends at one of our popular lounges.
At Sandman Hotel Group, we understand. For over 50 years, we have made it our business to take care of the details and to ensure your stay with us is enjoyable, comfortable, and affordable.
Yours in hospitality,
R. Thomas (Tom) Gaglardi
Chairman
Welcome to Sandman Hotel Group and thank you for taking the time to visit our website. It is our sincere hope that you will find it both helpful and informative.
Our long-term goal is for Sandman Hotel Group to be your national hotel brand of choice. To achieve this, we pledge to establish a Sandman hotel in every primary market and most secondary markets, whether that be Sandman Hotels, Inns & Suites or Sandman Signature Hotels & Resorts. This will allow our guests to stay with us wherever they travel in Canada, the UK, and Texas, USA.
The success we have experienced can largely be attributed to two factors: the continuous loyalty of our guests and the unwavering commitment of our team. Regarding the latter, I would like to extend an invitation to those who are considering a career in tourism and hospitality to look into our company. We are always interested in having customer-focused individuals join our team.
On behalf of our team, we thank you for your continued patronage in making Sandman your preference, whether travelling for business or pleasure.
With kindest regards,
Robert Pratt
President & CEO
New Hotels
Sandman Hotel Group is always excited to build, renovate and explore new cities. In addition to our newest Sandman Signature openings in Saskatoon, Sherwood Park, Ottawa, Plano-Frisco Texas, and Aberdeen UK, we are excited to announce three new Canadian hotels opening soon in Winnipeg, Markham, and Dartmouth.
With the addition of these new hotels, you can be sure that Sandman is always the smart choice.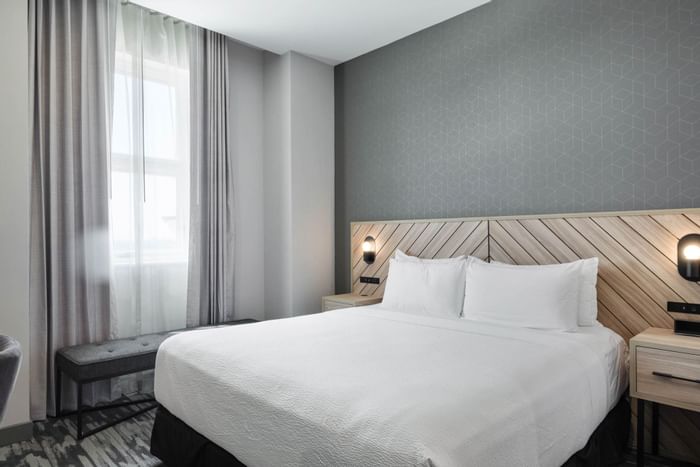 Sandman Signature Dartmouth Hotel & Suites
We can't wait to welcome you to Dartmouth, Nova Scotia! Our new, 212-room hotel on Wilkinson Avenue is the latest addition to the Sandman Hotel Group chain. Within walking distance of the hotel, you'll find Dartmouth Crossing, and Downtown Dartmouth is just 7km away. This pet-friendly hotel in Dartmouth features an indoor pool and hot tub, complimentary onsite parking, and a 24-hour Denny's restaurant.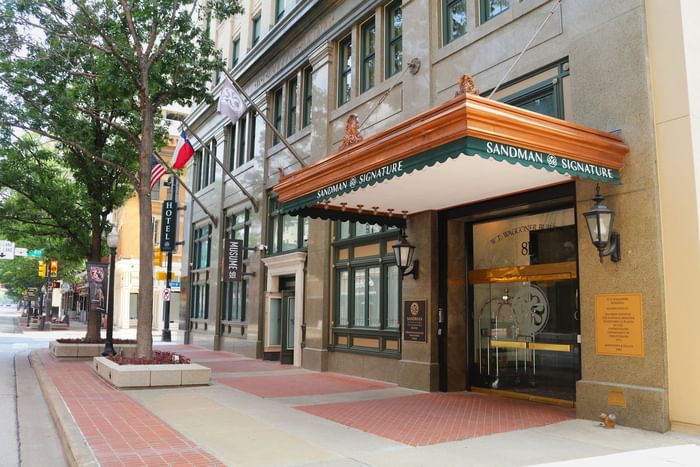 The W.T. Waggoner Building was opened on March 8, 1920, and today is home to Sandman Signature Fort Worth Downtown Hotel. Our 245-room, heritage building on Houston Street is listed on the National Register of Historic Places. This makes it one of the most historic hotels in Dallas Fort Worth and we've honoured the building's past by retaining many of the original features for you to observe and enjoy during your stay. Ideally located for every type of traveller, with shopping, dining, attractions, and conference services just minutes from our doors. Experience downtown Fort Worth with us today.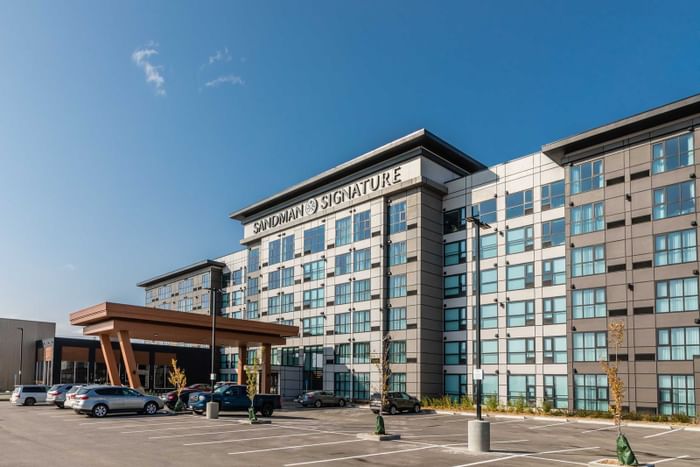 Sandman Signature Saskatoon South Hotel
Elegant, sleek, and stylishly modern, Sandman Signature Saskatoon South Hotel offers four-star hospitality at its best. Centrally located just off Hwy 11, beside the Saskatoon Golf & Country Club, and a 10-minute drive from the University of Saskatchewan and Saskatoon's downtown shopping and entertainment districts. Sandman Signature Saskatoon South Hotel features 230 guest rooms with modern in-room amenities. Enjoy the convenience of free guest parking, complimentary high-speed Wi-Fi, early check-in, late check-out, and two on-site restaurants.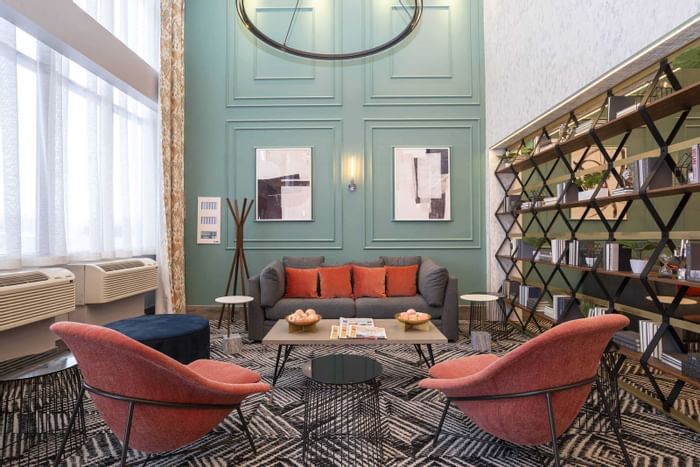 Sandman Signature Sherwood Park Hotel
Impeccable services and elevated design meet at Sandman Signature Sherwood Park Hotel. Each of the 229 spacious guest rooms features a 42-inch HDTV, complimentary Wi-Fi, and hi-tech design all while exuding modern style and timeless elegance. Upgrade to a suite for extra comfort and a separate living area whilst enjoying the surrounding restaurants and parks. Our sweeping range of amenities will take care of you, your pet, and your relaxing stay.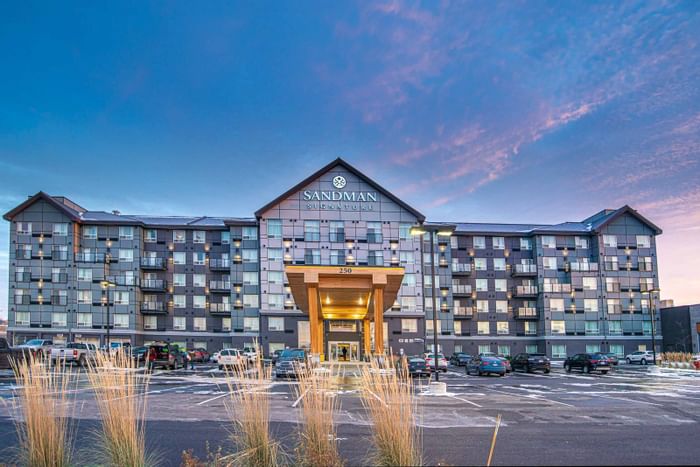 Sandman Signature Ottawa Airport Hotel
With convenient access to Ottawa Macdonald–Cartier International Airport (YOW) along with the downtown business, entertainment, and shopping districts, Sandman Signature Ottawa Airport Hotel is bringing elegant, relaxed, comfort to Canada's capital city. Offering 201 beautifully appointed guest rooms and suites, our vibrant, pet-friendly accommodations include flat-screen TVs, mini-bars, mini-fridges, microwaves, and comfortable beds that you will talk about for years. Whether visiting for business, pleasure, or a bit of both, stay connected with complimentary Wi-Fi, enjoy a meal at the on-site Chop Steakhouse & Bar, or sweat it out in the fitness centre.
Donation & Sponsorship Requests
First, we want to welcome you to the Sandman Hotel Group submission page to make a donation or sponsorship request. Second, we'd like to thank you for doing what you do to help enrich and empower the people who live in our communities.
We understand that any organization submitting a request has a compelling community need, and we kindly ask the following stated guidelines are met:
The mission of the non-profit organization must be to serve and enhance communities, by providing health and human services, education, arts and culture, or community development initiatives.
All donations/sponsorships must focus on communities where the Sandman Hotel Group has a presence.
Charities must have legal charitable status.
Donations are to be used for the sole benefit of the eligible institution and are restricted to the use of the project for which the donation is being made.
To make your request today, please fill out our Donation/Sponsorship Application Request form below.