Contact Us & Directions
Questions or comments? We want to help! Send us a message through our online form or use our contact information below.
How to Get to the Hotel
Find your way to Sandman Hotel & Suites Abbotsford or click on View Directions below. We're looking forward to welcoming you.
32720 Simon Avenue,
Abbotsford, V2T 0B8
Telephone: 604-556-7263
Reservations Toll Free: 1-800-726-3626 (SANDMAN)
For the safety of our teams, we have reduced the hours of operation at Central Reservations. Representatives will be available every day from 5:00 am to 11:00 pm Pacific Standard Time. If you are calling outside of those hours please call the hotel directly.
Sandman Hotel & Suites Abbotsford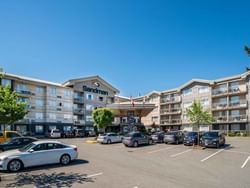 Wherever you're headed, be sure to add Sandman Hotel & Suites Abbotsford to your itinerary. With sleek and stylish furnishings and super comfy beds, you'll enjoy your stay away from home.