Things To Do In Kamloops
Sandman Inn Kamloops is located in a distinctly welcoming destination surrounded by an abundance of things to do and see. To enhance your stay, we have compiled a local guide of nearby attractions and activities to thrill every member of your family.
Sandman Inn Kamloops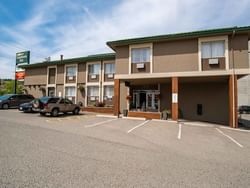 A stunning landscape surrounded by luscious lakes, rivers and world-class outdoor activities, Kamloops is true Interior beauty at its best.
Sandman Centre
Whether you're staying in town at Sandman Signature Kamloops Hotel, or Sandman Inn Kamloops, you're super close to all the junior hockey action, when you take in a game featuring the Kamloops Blazers of the WHL, playing in their home arena at Sandman Centre.
Cascades Casino
You're only about 10 minutes away from Cascades Casino—a popular entertainment spot in the area. So make it a night on the town, and enjoy taking your chances at the tables or slots.
Kamloops Art Gallery
When here, make sure you visit the largest art gallery of the BC Interior, the Kamloops Art Gallery. Featuring over 3,000 works, this is a collection of some of the most inspiring, transformative, and engaging art in the region.
Kamloops Heritage Railway
The Kamloops Heritage Railway is located just a few minutes away. Once there, you can learn about train history, and take in the excitement of various train tours, and behind-the-scenes backshop tours, too.
The Dunes at Kamloops
Take a short 16-minute drive to where you can make some long drives off the tees—at The Dunes at Kamloops. A popular spot every season, it's a great place to sharpen your game, walk the fairways, and where the best birdies you see are the ones rolling across the greens.
Talking Rock Golf Resort
Take the 51-minute drive, and before you know it, you'll find yourself driving toward some of the nicest greens at Talking Rock Golf Resort. The course doubles as a pretty great second boardroom where you just might end your day closing a deal at the 19th hole.