Contact Us & Directions
Questions or comments? We want to help! Send us a message through our online form or use our contact information below.
How to Get to the Hotel
Find your way to Sandman Sandman Signature Plano Frisco Texas Hotel or click on View Directions below. We look forward to welcoming you.
8451 Parkwood Boulevard, Plano TX 75024 USA
Telephone: +1-469-535-5100
Reservations Toll Free: 1-800-726-3626 (SANDMAN)
For the safety of our teams, we have reduced the hours of operation at Central Reservations. Representatives will be available every day from 5:00 am to 11:00 pm Pacific Standard Time. If you are calling outside of those hours please call the hotel directly.
Sandman Signature Plano - Frisco Hotel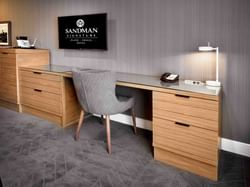 Our premium and ultra-inviting destination boasts 233 stylish and beautifully-appointed rooms. Whether you're in the lone star state for business, catching a Dallas Stars game, or both, make sure you score a stay at Sandman Signature Plano – Frisco Hotel.