Contact & Directions
Questions or comments? We want to help! Send us a message through our online form or use our contact information below.
How to Get to the Hotel
Find your way to Sandman Signature Hotel and Suites Prince George or click on View Directions below. We look forward to welcoming you.
2990 Recplace Drive, Prince George, V2N 0B2
Telephone: 250-645-7263
Toll Free: 1-800-726-3626 (SANDMAN)
For the safety of our teams, we have reduced the hours of operation at Central Reservations. Representatives will be available every day from 5:00 am to 11:00 pm Pacific Standard Time. If you are calling outside of those hours please call the hotel directly.
Sandman Signature Prince George Hotel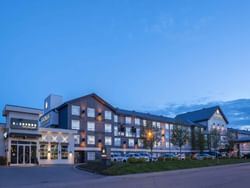 When you find yourself travelling to or through this breathtaking part of the province, be sure to make a place in your itinerary for a genuinely comfortable and impeccably unique hotel experience at Sandman Signature Prince George Hotel.