Contact Us & Directions
Questions or comments? We want to help! Send us a message through our online form or use our contact information below.
How to Get to the Hotel
Find your way to Sandman Hotel Montreal-Longueuil or click on View Directions below. We look forward to welcoming you.
999 Rue de Serigny, Longueuil, J4K 2T1
Telephone: 450-670-3030
Toll Free: 1-800-726-3626 (SANDMAN)
For the safety of our teams, we have reduced the hours of operation at Central Reservations. Representatives will be available every day from 5:00 am to 11:00 pm Pacific Standard Time. If you are calling outside of those hours please call the hotel directly.
Sandman Hotel Montreal-Longueuil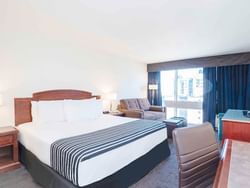 Whether you're in Montreal to see friends and family or for work, you'll enjoy all that one of Canada's most memorable cities has to offer while staying at Sandman Hotel Montreal - Longueuil.