The Best Places To See The Northern Lights In Canada

Firstly, What Causes The Northern Lights?
The aurora borealis, or northern lights, are an atmospheric phenomenon typically reserved for communities in high-latitude regions. As you get closer to the north pole, the more your chances of seeing the aurora increase. This fluctuates, however, and solar storms can cause light shows as far south as the Canada/U.S. border and beyond.
But what actually causes the northern lights, you ask? Essentially, the glow in the sky is caused by collisions between electrically charged particles from the sun that enter the earth's atmosphere. Several colours have been witnessed although green/yellow is the most common. The aurora borealis may manifest in a number of ways: from a gentle glow on the horizon to dramatic ribbons of light dancing across the sky.
Fun fact: In the southern hemisphere, these lights are called 'Aurora Australis'.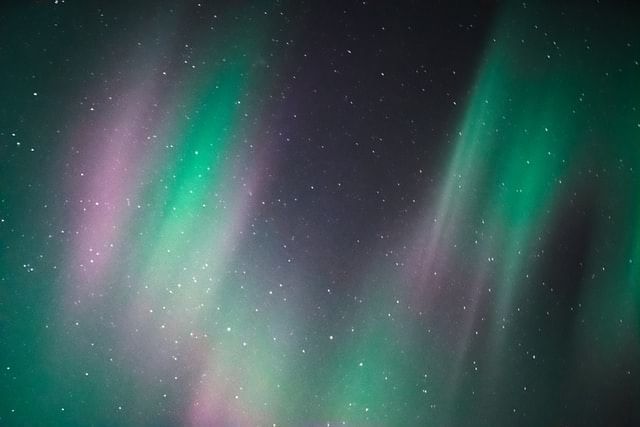 Grande Prairie, Alberta
Grande Prairie is an ideal location for witnessing the northern lights of Canada. It's inland enough to escape coastal clouds and far enough north to regularly be enveloped by aurora-causing solar winds. If you'd like to boost your chances, Canadian Geographic recognizes the neighbouring town, Dawson Creek, as one of the best places in Canada to view the northern lights!
Where to stay: Convenience and comfort go hand-in-hand at Sandman Hotel Grande Prairie. Guests enjoy access to an onsite pool as well as dining options from Shark Club Sports Bar & Grill, and Denny's.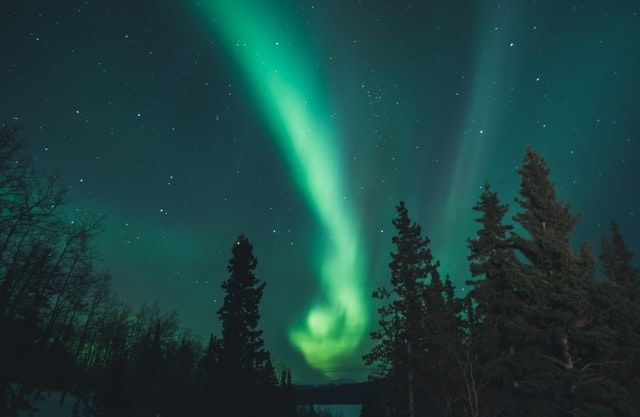 Smithers, British Columbia
A great way to access Smithers is by air. A direct flight from YVR will take you an hour and a half, with connections available from other airports such as Toronto Pearson and Calgary International. Smithers is in northern British Columbia and is sheltered by Hudson Bay Mountain. It lies east of the Coast Mountains, which means a better chance of clear skies. If you're a photographer, there are a number of incredible spots in Smithers to set your camera up and capture the aurora.
Where to stay: Smithers is an outdoor town, and Sandman Inn Smithers is your base camp. You'll find cozy, comfortable, and affordable guest rooms—some with kitchenettes—that are also pet-friendly.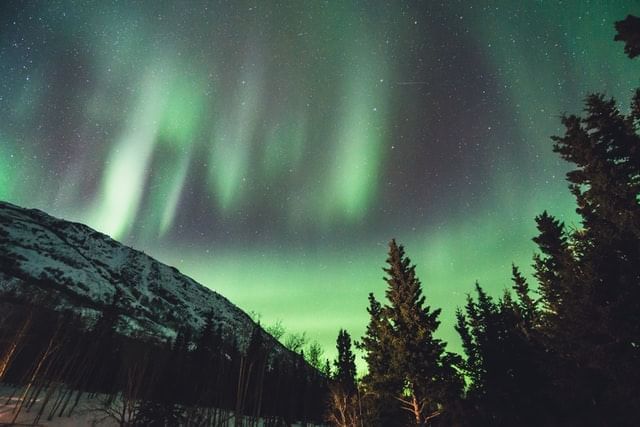 Terrace, British Columbia
One of the most notable attractions in Terrace, BC. is the Aurora Borealis. This small BC community more than 1,000km north of Vancouver, is home to a number of parks, which are perfect for avoiding light pollution and witnessing the northern lights in all their glory. The wild environment found here will perfectly complement the ethereal experience of your first light show.
Where to stay: Feel close to nature with awe-inspiring views of the Skeena River and Shames Mountain when you stay just a stone's throw away at Sandman Hotel Terrace.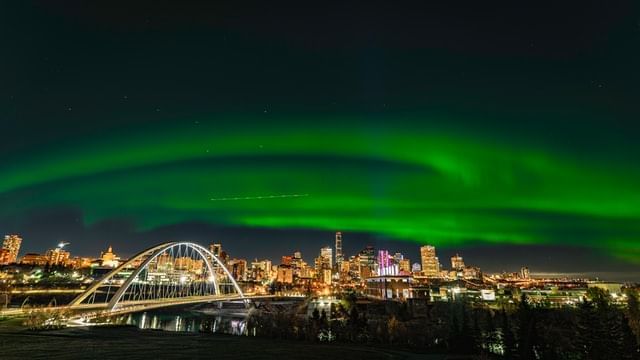 Edmonton, Alberta
Did you know that Edmonton, AB. has a dark sky preserve? Beaver Hills was designated a Dark Sky Preserve in 2006 and is part of Elk Island National Park. It's located 40km east of the city making it very accessible. The best time of year to see the aurora here is probably winter, but it's a stellar location for stargazing year-round.
Where to stay: Sandman Signature Sherwood Park Hotel is located on Highway 16. You'll have easy access to Elk Island National Park to the east (15 minutes), and downtown Edmonton to the west (20 minutes).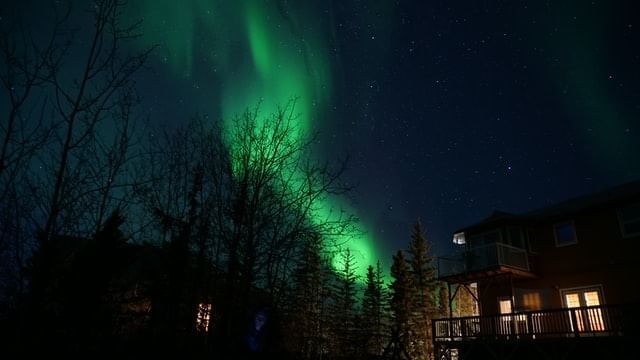 Saskatoon, Saskatchewan
Aptly named 'The Land Of Living Skies', Saskatchewan is a great place to catch the northern lights in Canada. Some light shows are even bright enough to see from a rooftop in Saskatoon! Of course, for prime viewing, we recommend slightly darker skies. Head out to places such as Northeast Swale or George Genereux Urban Regional Park to lose some of that city glow. Check out this article for 5 Places To See The Northern Lights In Saskatoon.
Where to stay: Sandman Hotel Saskatoon is ideally located to access downtown and Saskatoon John G. Diefenbaker International Airport. If you're heading north for front-row seats to the Aurora Borealis, then Highways 11, 12, and 16 are right out the front door.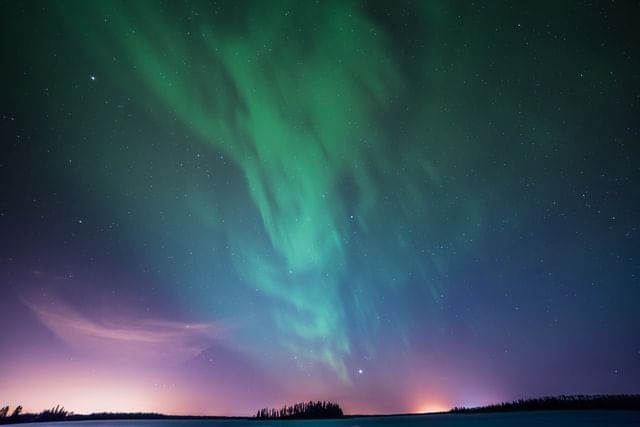 When Is The Best Time To See The Northern Lights?
A northern lights forecast is the best way to gauge solar activity in the atmosphere. There are a number of apps that may be downloaded to your cell phone. The Space Weather Prediction Center by the National Oceanic And Atmospheric Administration is a U.S Government website offering plenty of data. It shows you the probability of Aurora as well as a forecast lead time. A handy map can even show you if the lights will appear in your area.
Another great option is AuroraWatch.ca. It features a free email alert service, which will ping you when the forecast is looking promising. Happy light hunting!