7 Things To Do In Revelstoke In Summer
Can you smell it? As the sweet scent of pollen and the heady smell of freshly cut grass begin to fill the air, we can't help but have summer on our minds. Oh, the possibilities! From alpine hikes and wildflower meadows to cooling lake floats and beer patios–Revelstoke, BC is the place to enjoy the warmer months. We thought we'd take a dive into some of our favourite things to do in Revelstoke in the summer. Hold on for #5–it's a family favourite!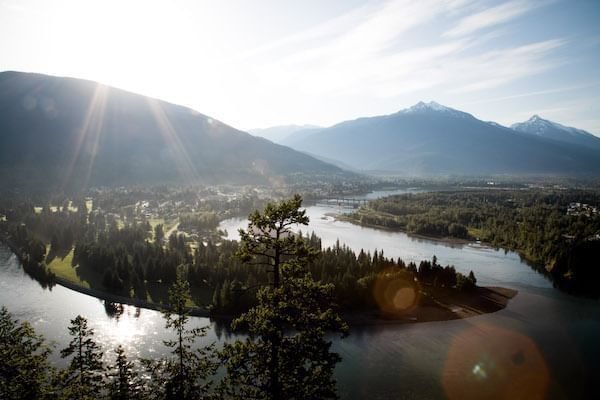 PC: Tourism Revelstoke/Zoya Lynch
But Where Is Revelstoke?

This beautiful town is right on Highway 1, nestled in the Monashee Mountain Range and roughly halfway between Vancouver (6.5 hours) and Calgary (5 hours). Driving is the most common way to arrive in Revelstoke. For flyers, book tickets to Kelowna Airport (YLW) where a shuttle is available to drive you the 2.5 hours to town.
What's The Weather Like In Revelstoke?

Summer in Revelstoke typically hovers around 20-25C with some chance of humidity. Its mountain climate can change quite rapidly and so it's best to be prepared with a light shell in the event of a quick rain shower.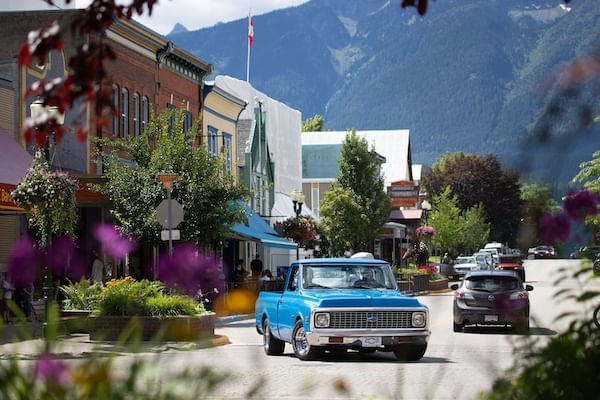 PC: Tourism Revelstoke/Tom Poole
Paddle

Looking to cool down? Summer in Revelstoke is the perfect place to spend some time on the water, and Lake Revelstoke, the Arrow Lakes, and Williamson Lake are perhaps the more popular locations. Check out the Tourism Revelstoke website if you need to rent a paddleboard, kayak or canoe–or if you'd like to book on to a tour. Feeling adventurous? The guys at Apex Rafting will get the adrenaline pumping!
PC: Tourism Revelstoke/Bruno Long
Golf

Players of all abilities are welcome at Revelstoke Golf Club–the only problem is: you may find yourself getting distracted by the scenery! Mount Begbie looms over the lush greens of the fairway, and the mighty Columbia River presents flashes of turquoise beyond an armada of cedars. There's a full-length driving range and golfers can refine their short game thanks to a full-size chipping and putting green as well as a practice bunker.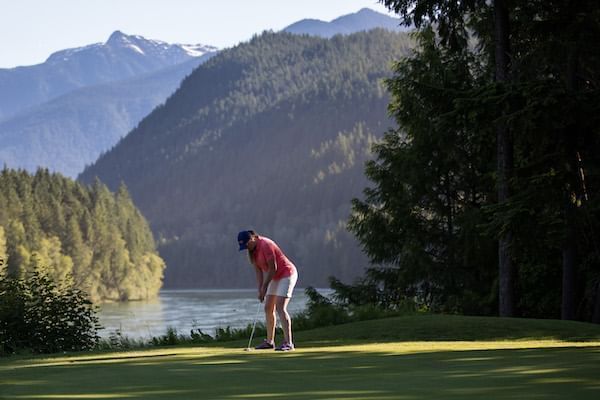 PC: Tourism Revelstoke/Zoya Lynch
Mountain Biking

There's a mountain bike trail for every rider in Revelstoke. From fast and flowy in the forest, to high alpine endeavours–you'll enjoy incredible views from every turn of the handlebars. Mount Macpherson's Griffith Creek is the place to find your bike legs, and Boulder Mountain is your go-to for downhill. Meanwhile, Frisby Ridge is bucket list territory and well worth the 12km, 800+ meter climb.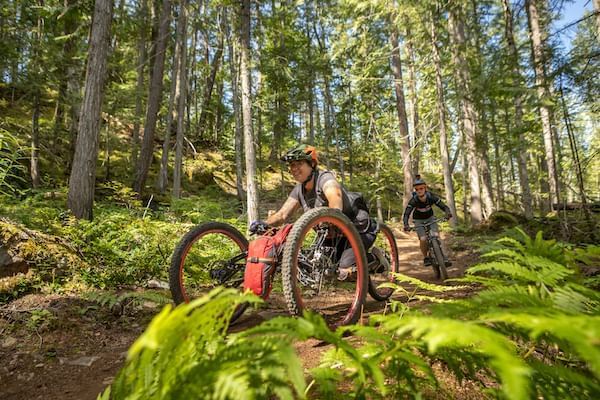 PC: Tourism Revelstoke/Tom Poole
Revy. Live Outside.

July through August, Arts Revelstoke presents 58 nights of live music in Grizzly Plaza from 6-9 pm. The audience will enjoy music of all genres from indie, folk, and rock, to country, reggae, and blues. Experience a genuine mountain town vibe while you grab a bite to eat from one of the food trucks and relax with a drink. Full schedule is TBC at the time of writing this blog, however, details will be made available on the Tourism Revelstoke website here.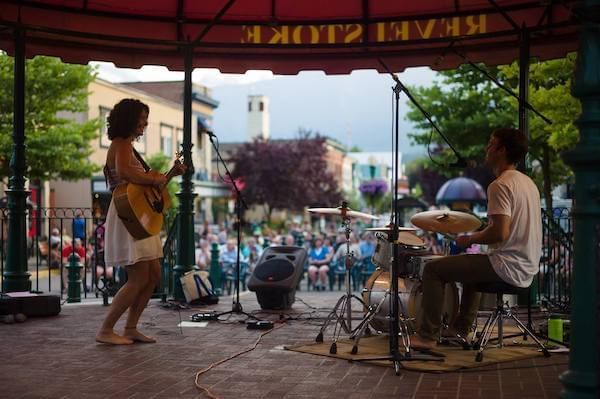 PC: Tourism Revelstoke/Borja Moncunill
Hiking

Summer in Revelstoke is synonymous with alpine hiking and attracts ramblers from far and wide thanks to spectacular scenery and favourable conditions. Time your visit to coincide with Revelstoke Wildflower Festival, August 3-7, 2022. This celebration of British Columbia's bountiful blooms can be enjoyed by foot, bike, car or gondola and is perfect for the whole family. The Eva Lake Trail is a great place to see Revelstoke's wildflowers. For something–shall we say– more cardio-based, check out The Hermit Trail (one of the steepest trails in the area!)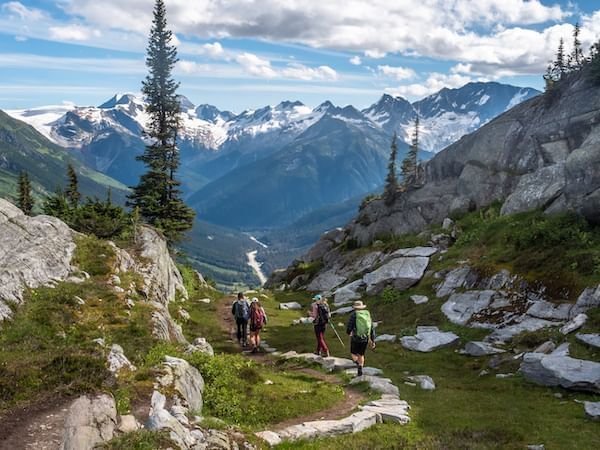 PC: Tourism Revelstoke/Tom Poole
Revelstoke Mountain Resort

There's so much to see and do at Revelstoke Mountain Resort, you'll need a whole day to experience it all. Lucky for you, they have the Play All Day pass. For one great price, you get to enjoy the legendary Pipe Mountain Coaster, Aerial Adventure Park, and Peak Axe Throwing. You may also like to try your hand at disc golf, stop to smell the wildflowers or add on mountain bike trail access.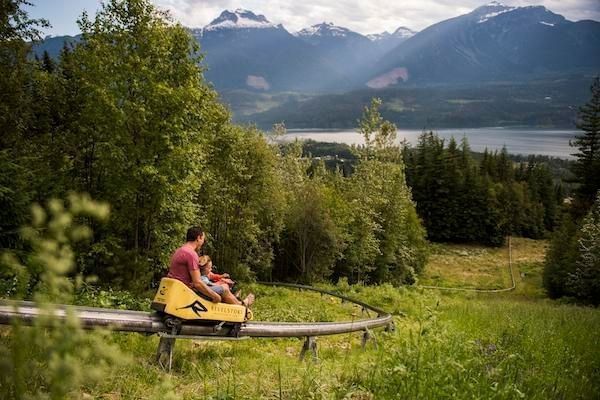 PC: Tourism Revelstoke/Destination British Columbia
Tandem Paragliding

Soar like an eagle and experience the Monashees from a whole new perspective when you brave an afternoon of tandem paragliding in Revelstoke. You'll join an experienced pilot to launch from Mount Mackenzie (Revelstoke Mountain Resort) and your flight time is typically around 2 hours. Choose to glide gently and take in the scenery or–if you're feeling brave–speak to your pilot about experiencing some G-force and high-speed acrobatics!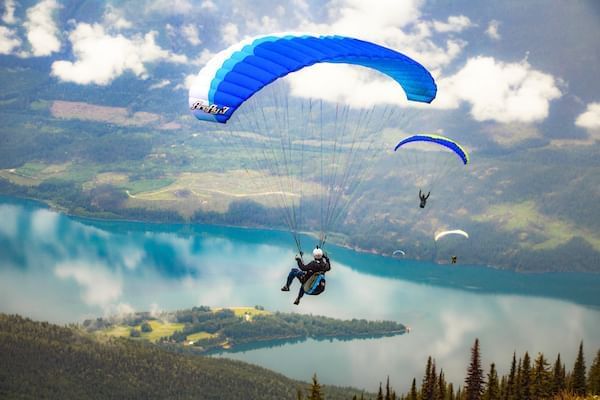 PC: Tourism Revelstoke/Tom Poole
Hot Springs

After a couple of days of mountain activities, you deserve some time to wind down. Lucky for you, there are a number of spots around Revelstoke where you can enjoy nature's spa–a rejuvenating hot spring! Visit the Halfway River Hot Springs for the authentic experience. It's a couple of hours south of Revelstoke and they're accessed via a logging road and a short hike. Campsites are available for a small fee. For a more luxurious approach, try Halcyon Hot Springs on Highway 23.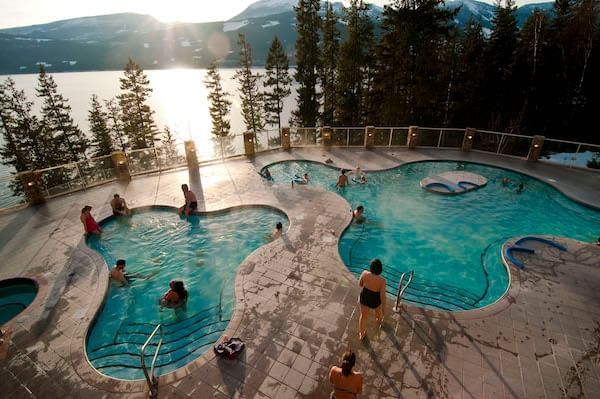 PC: Tourism Revelstoke/Bruno Long
Things To Do In Revelstoke In Summer - Where To Stay

If it's exceptional value you're looking for, check out Sandman Hotel Revelstoke. It's walking distance from downtown and boasts a pool, pet-friendly rooms, and even an onsite Denny's–perfect for fueling your summer adventure!